Jurassic World: Dominion Dominates Fandom Wikis - The Loop
Play Sound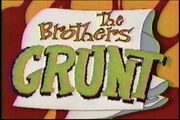 The Brothers Grunt is an adult animated television series created by Canadian animator Danny Antonucci. The series aired on MTV from August 15, 1994 to February 20, 1995. Antonucci would later become famous for creating the hit Cartoon Network series, Ed, Edd n' Eddy
Premise
[
]
The series centered around an ensemble cast of pale, rubbery humanoids distantly related to human beings, all of them ostensibly male, wandering around in their underpants. Their main food staple is cheese; nevertheless they are able to eat other meals (at least potatoes: see episode #23 Not My Potato). Their single parent is a giant, mute aquatic individual, called Primus Gruntus Maximus, to whom they are born as embryos inside skin warts, much in the way of the Surinam Toad (see Pipa pipa). They live in a monastery in an alternate universe. A group is formed, composed of most of the survivors of their species, in a quest to bring back one of their kind, Perry, who has abandoned his involuntary position of "Chosen One" (leader of their order) and is now living the "high life" among human beings (who seem to deal with the bizarre nature of the grunts by ignoring them and pretending everything is normal). The style and quality of animation resembled that of The Ren and Stimpy Show.
Main characters
[
]
The main characters were named after famous crooners of the 1960s: Frank (Sinatra), Tony (Bennett), Dean (Martin), Bing (Crosby), Sammy (Davis, Jr.) and Perry (Como) all voiced by Doug Parker.
The characters that would become The Brothers Grunt were first seen in one of MTV's numerous 30-second promos. This particular promo consisted of close-up shots of the at-the-time-unnamed character's faces who seemed to be straining to do something (veins in their heads would bulge, the characters would squint and grunt) until the scene cut to the MTV logo landing in a pool of sludge followed by a satisfied "Ahhhhh" (suggesting that the characters were suffering from constipation, and the MTV logo was the feces, as it were). It is unclear when this promo aired if the storyline and characters from The Brothers Grunt had been developed already or if it had been developed into its own show after the success of the promo in the wake of Beavis and Butt-head.
The supposed climax of a trend toward genre-breaking, taboo-violating animated media
[
]
This series was perhaps the climax of the trend toward genre-breaking, taboo-violating animated media, following in the footsteps of (sequentially) The Simpsons, The Ren & Stimpy Show, and Beavis and Butt-head; and also including the later South Park and Family Guy. Typically these are shows which appear on the surface to simply be toilet humor descendants of The Benny Hill Show , but upon closer examination tend to have an agenda of exploring the arbitrary nature of taboos, social mores, stereotypes and the like. The Brothers Grunt did this to such an extent that it quickly alienated its own network, and even vanished from even rerun status. It would later be compiled on videotape by its cult following, and is to this day exchanged in a sort of free bootleg system completely ignored by its original makers.
Network Run History
[
]
The show began in 1993 when the MTV ad for The Brothers Grunt aired. At the time Danny Antonucci had animated several MTV ads in order to find work outside of International Rocketship Ltd., who he had worked for since 1984. Although Danny enjoyed the success of Lupo The Butcher, he wanted to leave International Rocketship Ltd. and start his own animation company. The result was a.k.a. Cartoon, which began in April 1 1994. The studio began as a way to locate his work for The Brothers Grunt after an MTV executive liked his MTV ad so much he asked him to turn it into a television series.
Controversy with Beavis and Butt-head fans

[

]
The show consisted of 7-minute segments which were packaged into 45-minute episodes. The show, however, became a breeding ground for angry Beavis and Butt-head fans, who did not realize that Beavis and Butt-head was on hiatus for a few months when The Brothers Grunt began; that re-runs of Beavis and Butt-head stopped airing made the situation even worse. MTV wanted to have more animated TV series after their success with Liquid Television and Beavis and Butt-head. They seized the opportunity to hire Danny Antonucci, while Mike Judge, creator of Beavis and Butt-head, had to put it on hiatus. MTV decided the shows would overlap each other, so when The Brothers Grunt was on hiatus they would air more Beavis and Butt-head, and when Beavis and Butt-head was on hiatus they would air more The Brothers Grunt. (Indeed, in episode #19 Close Encounters of the Grunt Kind, Beavis and Butt-head make a cameo appearance aboard a flying saucer, where they have been rounded up with other bizarre creatures). MTV's plan of having the shows overlap each other was MTV's original strategy for both shows.
Cancellation
[
]
The show received low ratings and poor reviews. It did build a small fanbase before it went off the air in August
Episodes (Episode Guide)
[
]
Season 1 (1993-1994)
[
]
The Ceremony (Pilot on MTV, Music Television Animation Weekend) (Made in 1993 and Released on August 15, 1994)
Make Mine a Grunt (August 22, 1994)
The New Fish (August 29, 1994)
Where Angles Fear to Grunt (September 05, 1994)
Viva Grunt Vegas (September 12, 1994)
Scrub Me Sammy (September 19, 1994)
Season 2 (1994)
[
]
The Detective (September 26, 1994)
If I Could Grunt to the Animals (October 03, 1994)
Paging Dr. Grunt (October 10, 1994)
Perry's Appliance Repairs (October 17, 1994)
Timmy's Best Friend (October 24, 1994)
No Quest Today (October 31, 1994)
Season 3 (1994)
[
]
Grunt Moments in History (November 7, 1994)
Perry Molo (November 14, 1994)
Tony and Salsa (November 21, 1994)
A Call to Grunts (November 28, 1994)
Clean Up in Aisle Grunt (Decemer 05, 1994)
Land of the Midnight Grunt (December 12, 1994)
Close Encounters of the Grunt Kind (December 19, 1994)
The Scent of Grunts (December 26, 1994)
Season 4 (1995)
[
]
Eat My Grunt (January 02, 1995)
They Stole Tony's Veins (January 09, 1995)
Not My Potato (January 16, 1995)
Squeal Like a Grunt (January 23, 1995)
The Big Crapple (January 30, 1995)
Sammy in a Varicose Vein (February 06, 1995)
Grunt Fare (February 13, 1995)
To H*ll with Bing (February 20, 1995)
Cream Style Tony (February 27, 1995)
The Ugly Gruntling (March 06, 1995)
5 Card Grunt (March 12, 1995)
The Stench of Grunts (March 19, 1995)
Grunt Games (March 26, 1995)
Requim for a Sammy (April 02, 1995)
Smells Like Dean Sprit (April 09, 1995)
Perry Come Home
Bring Me the Head of Perry the Grunt
Black Balled Grunt
Perry's Day Off
Tony & Lace
The Filling of the Shorts
Poobah Blues
Hunt for Grunts
Friends! Romans! Grunts!
The Wedding
External links
[
]